WhatToGive.com - a flexible online wish list
---
WhatToGive is designed to give you an easy to use and flexible online gift list. We know that there are lots of other similar gift registry sites out there but here are some of the things that make WhatToGive.com a dream to use: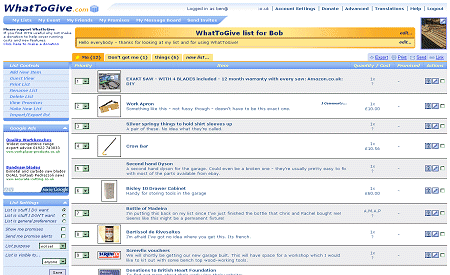 Add any item from anywhere - online or not - if you can describe it you can add it to your list!
If the item is online you can add a link to it and include an image on the list
Items are removed from the list as they are promised
Subdivide your list - add things for the house and things for your honeymoon on separate lists
Request contributions towards more expensive items - you can choose to invite contributions towards an item. Once thee full amount is promised the item will be removed
We don't handle any money - that's up to you. Your guests buy items where they like - not from us. If they're giving money they can use paypal or give you a cheque - we let you decide.
Want to sign up? Just put your email in the orange box below and click "start"
Still not sure? Check out all the user feedback below
Questions? Click here for our Frequently Asked Questions page



Some films"

User Feedback

---